Weekly Schedule Template: Here's How to Plan Your Time
Zuletzt aktualisiert:
In the past, I've always had problems planning my weeks and tasks correctly. I hadn't been able to do things that were important to me. At some point, I got tired of it and decided to plan my time better.
I created a weekly schedule template to help me (and hopefully you) plan upcoming weeks and reflect on past weeks.
Weekly Schedule Template (also for printing)
The weekly plan template is deliberately designed to be a bit more colorful and is intended to lift your spirits when you plan your next week. After all, every week is a chance to get ahead and develop. Hence, it should be used as much as possible. In the past, I have tried simple Excel lists. There was almost no effect at all. With my own template, I'm looking forward to ticking off tasks every day. When planning, I feel like an artist who works on the image of his life and has a decisive influence on how things will continue.
You can access the weekly plan template here:

Weekly Schedule Template (Google Sheets)
To customize the template to your needs, you will need to make a copy of the document.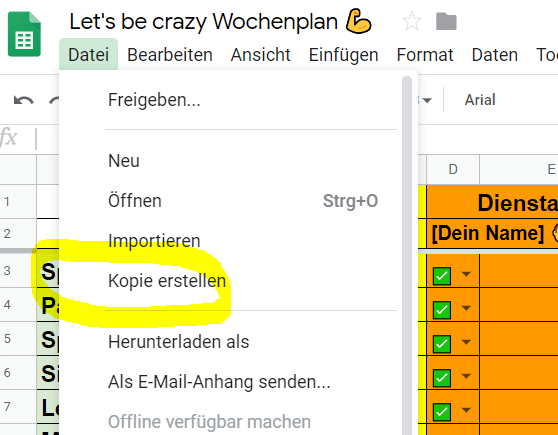 You can also download the weekly planner template as an Excel file here:
Plan Your Week by Using the Weekly Planner Template
The weekly planning is quite simple with the weekly schedule template. First, you should decide which areas of your life you want to plan. These can be areas such as sports, food or education.
For me, for example, they are:
Fun → should not be forgotten
Paperwork → must be done
Sport → I have to note it down so that I stick to it
Side Hustle → helps me to work on my ideas in a structured way.
Learning → motivates me to keep learning (so that I read e.g. 10 book pages per day)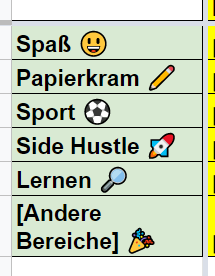 In the next step you can think about the corresponding tasks for each area and assign them to the respective weekdays. For example, if you also want to read 10 pages each day, enter the task Read 10 pages for each day of the week in the Learning column.

When the week has started, you can check off any task you have completed with ✅ (and who doesn't want the whole spreadsheet to appear in bright green).
You can create a new week simply by clicking on the current tab (Week XY) and clicking on Duplicate. Now you can delete all tasks from the previous week in the new tab and start all over again.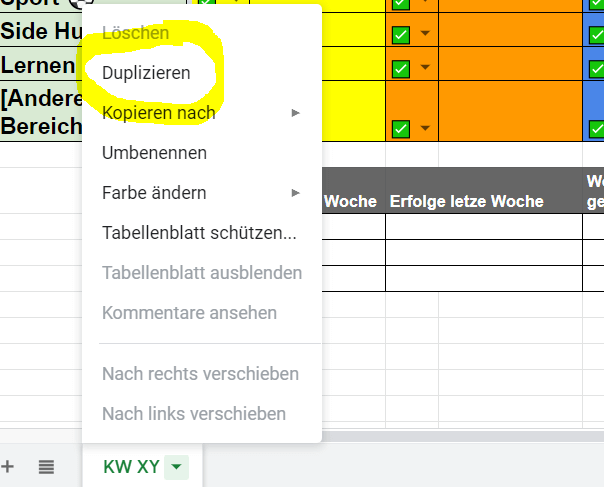 If you have any further questions about using this site, please let me know about it in the comments. Otherwise, I wish you a lot of fun and success in planning your next weeks.