7 Apple Pencil Alternatives At a Glance [2022]
Zuletzt aktualisiert:
Want to create a quick note without searching for the right app? You've come to the right place with the Apple Pencil. On all Apple devices, you can start writing with a simple tap on the screen. But there are plenty of alternatives you should know about.
Quick Links
Apple Pencil alternative: These 7 alternatives to the Apple Pencil you should know about
Wireless and easy to hold, an electronic pencil should be able to do this and much more. These 14 alternatives to the Apple Pencil may interest you if you are looking for such a product.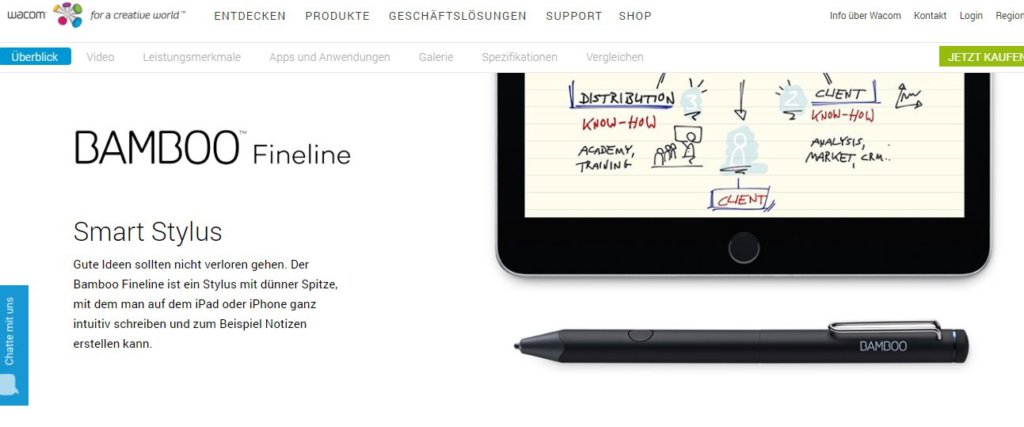 With the Wacom Bamboo Fineline Smart Stylus you can write and sketch naturally, almost as if you were writing on a piece of paper. The pen is comfortable to hold and allows quick access to various functions. The Bamboo Paper app makes it easy to jot down notes and ideas. You can access it from different devices.
A small button and a twisting motion start the pen. An LED indicator shows the status of the battery, which lasts up to 15 hours. Palm recognition and clear writing make your Apple device a personal notebook. The good Apple Pencil alternative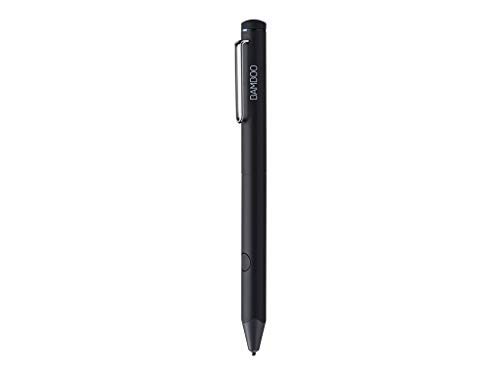 Wacom Bamboo Fineline Smart Stylus (3. Generation, Aktiver Touch Pen für Apple iOS Touchscreen-Eingabegeräte wie iPhone oder iPad) schwarz, K100879
Mit dem Wacom Touchpen lassen sich Skizzen & Ideen spielend leicht auf dem iPhone oder iPad digital festhalten: Den Bamboo Fineline einfach mit der bevorzugten Notiz-App verbinden und loslegen. Bitte...
Dank des ergonomischen dreieckigen Designs & der rutschfesten Soft Touch-Oberfläche liegt der Wacom Tablet Stift angenehm & sicher in der Hand und unterstützt ein möglichst natürliches...
Die feinjustierte & präzise Spitze des drucksensitiven Tabletstifts von Wacom unterstützt ein punktgenaues Targeting und ist dank des integrierten Drehmechanismus vor unnötigem Verschleiß...
Die Funktion der seitlich angebrachten Taste kann ganz individuell den persönlichen Bedürfnissen entsprechend programmiert werden und ermöglicht so ein Mehr an Produktivität und Effektivität
Lieferumfang: Wacom Bamboo Fineline Touch Pen in Schwarz (CS-610CK) / Druckempfindlicher Smart Stylus mit Handballenerkennung für iPad und iPhone (Länge: 142 mm) / USB-Kabel / Schnellstartanleitung
Benefit duration:
Approx. 15 hours
Suitable for the following devices:
iOS devices (iPad, iPhone)
Palm Detection:
Yes, in supporting apps
Special features:
Bamboo Paper app to record and share notes
Scope of delivery:
Pen, USB cable
MoKo Active Stylus Pen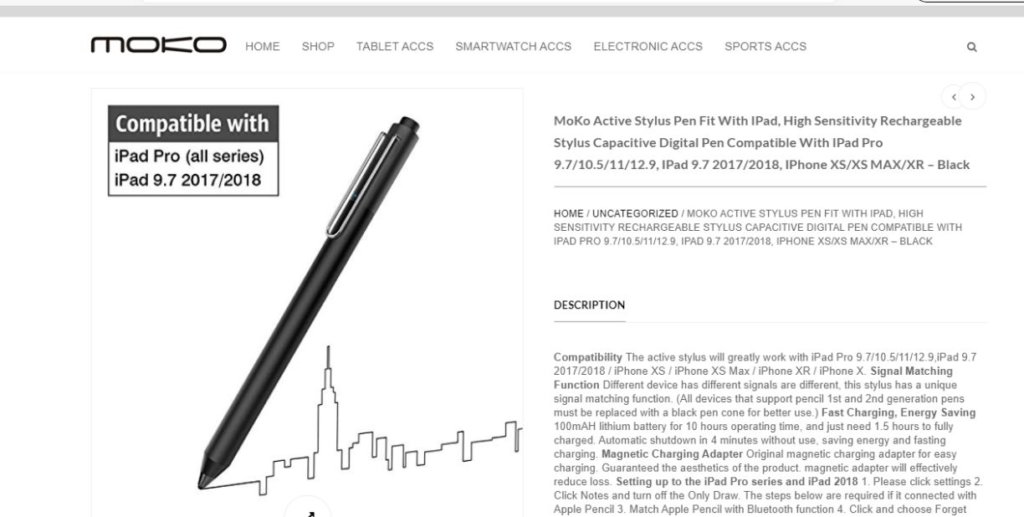 The MoKo Active Stylus pen is compatible with many devices and offers the highest precision and accuracy. The particularly sensitive writing tip guarantees precise writing with an easy writing flow. The pen can be easily switched on and off with just one button. Electromagnetic power surges ensure accuracy.
The battery can be charged quickly. A magnetic charging cable is used for this purpose. This means that the pen has no unsightly plug. If no pressure is applied for 4 minutes, the standby time is automatically started, making the MoKo Active Stylus pen even more energy efficient.
Keine Produkte gefunden.
Benefit duration:
Up to 8 hours
Suitable for the following devices:
iOS devices, smartphone and iPad
Palm Detection:
No
Special features:
Particularly energy saving
Magnetic charging cable
Scope of delivery:
1 Active writing tip, USB cable
Adonit Pixel stylus
The Adonit Pixel stylus is designed with the highest precision, which allows accurate writing. The 1.9mm tip responds to pressure sensitivity. Multiple levels allow you to write with varying intensity, thickness and strength, similar to a brush or fountain pen.
The digital pen has several Bluetooth features, such as palm rest, touch sensors, and quick keys for an even better flow. It is compatible with several iOS apps that allow for even better drawing and writing. A USB cable charges the battery within an hour, giving it about 15 hours of power.
Adonit Pixel Eingabestift für iOS Geräte - (z.B. iPad / Air / mini und iPhone SE 2020 / 11 / Pro / Max) - [Fine-Point-Stylus, 1,9mm Spitze, präzise Eingabe, lange Akkulaufzeit, Bluetooth] - schwarz
Verbesserte, dünne Spitze - Die 1.9mm dünne Pixelpoint Spitze bietet eine unvergleichliche Präzision und Genauigkeit, zusammen mit einem natürlichen Schreib- und Zeichnenerlebnis
Druckempfindlich - Von feinsten Linien bis hin zu fetten Pinselstrichen, der druckempfindliche Pixel mit Pixelpoint Technologie bietet volle künstlerische Kontrolle.
Bluetooth Features - Der Pixel unterstützt Funktionen wie Handballenauflage, Berührungsvorhersage und verfügt über Kurzbefehlstasten um eine benutzerfreundliche Stylus Erfahrung zu bieten.
Viele Pixel kompatiblen Apps - Verbinden Sie den Pixel mit Ihren bevorzugten iOS Apps um die besonderen Features zu nutzen und so auf eine neue Art zu Zeichnen, Schreiben und Skizzieren.
Der Adonit Pixel ist kompatibel mit dem Apple iPhone 4, 4s, 5, 5c, 5s, 6, 6 Plus, 6s, 6s Plus, SE, 8, 8 Plus, X, Xs, Xr, iPad Mini, iPad Mini 2, iPad Mini 3, iPad Mini 4, iPad Air, iPad Air 2, iPad...
Benefit duration:
15 hours
Suitable for the following devices:
iOS devices (iPhone, iPad 4, Mini, Air)
Palm Detection:
Yes
Special features:
Scope of delivery:
Pen, USB cable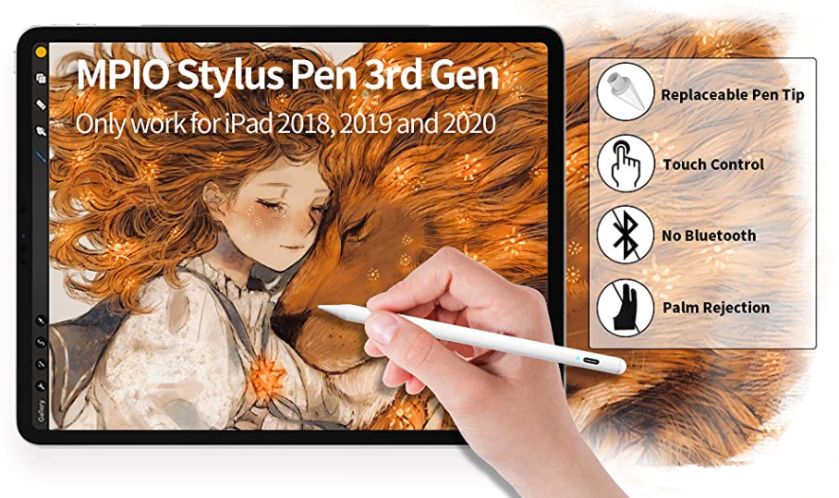 The MPIO Stylus Pen 2nd with Palm Rejection offers an even more comfortable feeling when writing, sketching and editing documents. Due to the special Palm Rejection function, the hand can be placed on the screen like a normal pad without it being recognized as a mark.
The digital pen is controlled via the touch unit. No Bluetooth is required here. The tip is replaceable so that the pen can be used for a long time. Likewise, different strengths can be set. The battery is charged via USB. To save energy, it is automatically switched off after 5 minutes without use.
Keine Produkte gefunden.
Benefit duration:
20 hours
Suitable for the following devices:
Suitable for iPad 2018, 2019, 2020
Palm Detection:
Yes
Special features:
Scope of delivery:
Pen, 1 replaceable tip, user manual, USB cable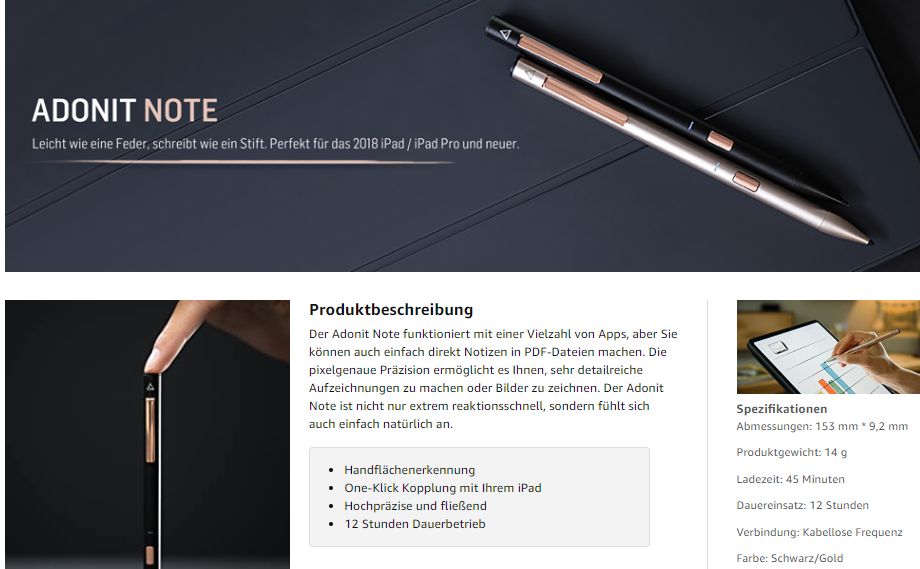 With the Adonit Note Stylus, even more detailed recording is possible. With just one click, the digital pen can be connected to the iPad. It is not only extremely responsive, but also feels very natural. Working or enjoying is no longer a problem with the Pen.
The palm recognition feature lets you rest your hand comfortably on the screen without interfering with its functionality. The USB cable charges the battery within 45 minutes. If you need the pen urgently, use the quick charge function. In only 4 minutes you can enjoy up to 1 hour of power.
Angebot
Adonit Note Stylus wiederaufladbarer Eingabestift (schwarz) kompatibel mit Apple iPad Air (2019), iPad mini 5 (2019), iPad 6th Gen., iPad Pro 11" & iPad Pro 12.9" (2018) - ADNB
Perfekte Präzision beim Schreiben, Bearbeiten von Bilder oder Skizzieren dank der ultrafeinen, austauschbaren Spitze - für ein natürliches Schreibgefühl, ohne den Touchscreen zu beschädigen
Bis zu 12 Stunden Akkulaufzeit im Dauerbetrieb und nur 45 Minuten Ladezeit - das Schreiben ist sogar während der Aufladung (Ladekabel im Lieferumfang enthalten) möglich
Der Adonit Note Pencil lässt sich einfach mit Ihrem Apple iPad koppeln und ermöglicht dank der Handballenerkennung stressfreies Arbeiten, um z.B. in GoodNotes oder Pages handschriftliche...
Kompatibel mit dem Apple iPad Air (2019), iPad mini 5 (2019), iPad 6th (9.7 Zoll), 7th Gen. (10.2 Zoll), iPad Pro 11" & iPad Pro 12.9" (2018) - für die Nutzung ist die Verwendung von iOS 12.2 oder...
Im Lieferumfang enthalten: Adonit Note Stylus in schwarz mit passendem Micro-USB Ladekabel und Bedienungsanleitung
Benefit duration:
12 hours
Suitable for the following devices:
iPad, iPad Pro, iPad Air, iPad mini
Palm Detection:
Yes
Special features:
Write and charge at the same time
Interchangeable tip
Scope of delivery:
Pen, micro USB charging cable, user manual
URSICO Stylus Pen for Apple iPad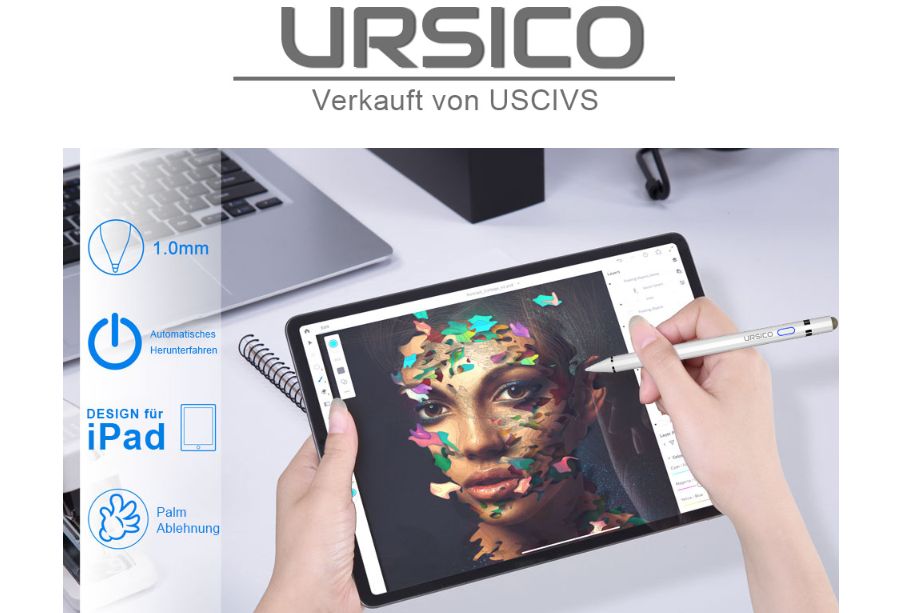 The URSICO Stylus Pen for Apple iPad is now even more sensitive and precise than other digital pens. The 1.0 mm tip can perfectly replace the finger, allowing you to draw clear lines and structures. There are no fixed points. The pen fits comfortably in the hand, giving a pleasant feeling with more accurate signals.
With URSICO, there is no need for Bluetooth anymore, it pairs directly with the iPad. The tip can be replaced, making the pen even more durable. It is charged via USB and has a power duration of about 20 hours.
Angebot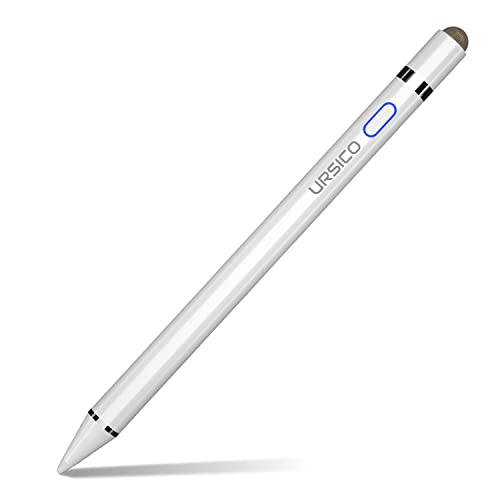 URSICO Apple Pencil 1. Generation, Professionelle Studenten iPad Stift für Schule/Geschäftsräume, Kompatibel mit iPad 6/7/8/9/10, iPad Mini 5/6, iPad Air 3/4/5, iPad Pro 11"/12,9"(3/4/5/6).
2023 AKTUALISIERTE VERSION VON IPAD STIFT: URSICO iPad Stift verfügt über hervorragende Leistungen! Die ultrafeine 1,0-mm-Stiftspitze kann den Finger für genauere Anweisungen perfekt ersetzen. Es...
ENTWICKELT FÜR DAS IPAD: Das iPad Stift ist für das iPad gestaltet geworden! Das IPad Stif hat keine umfassende Kompatibilität, und kann nur mit der iPad-Serie kompatibel sein, sodass seine...
USB-AUFLADUNG UND SUPER LANGE STANDBY-ZEIT: Der Stylus Stift kann für 20 Stunden lang ständig verwendet werden, und die Ladezeit beträgt nur 100 Minuten. Wenn Sie innerhalb von 30 Minuten diesen...
EINFACH ZU VERWENDEN: Das iPad Stift braucht weder Bluetooth noch Datenleitungen anzuschließen. Verwendungsschritte: 1. Drücken Sie die Schaltertaste 3 Sekunden lang. 2. Verwenden Sie es auf dem...
100% ZUFRIEDENHEITSGARANTIE: URSICO wird jedem Kunden den besten Service anbieten! Wenn Sie Probleme bei der Verwendung haben, kontaktieren Sie mit uns jede Zeit. Wenn Sie mit dem Produkt nicht...
Benefit duration:
20 hours
Suitable for the following devices:
iPad from 2018
Palm Detection:
Yes
Special features:
Can be used on both sides
Scope of delivery:
Pen, USB charging cable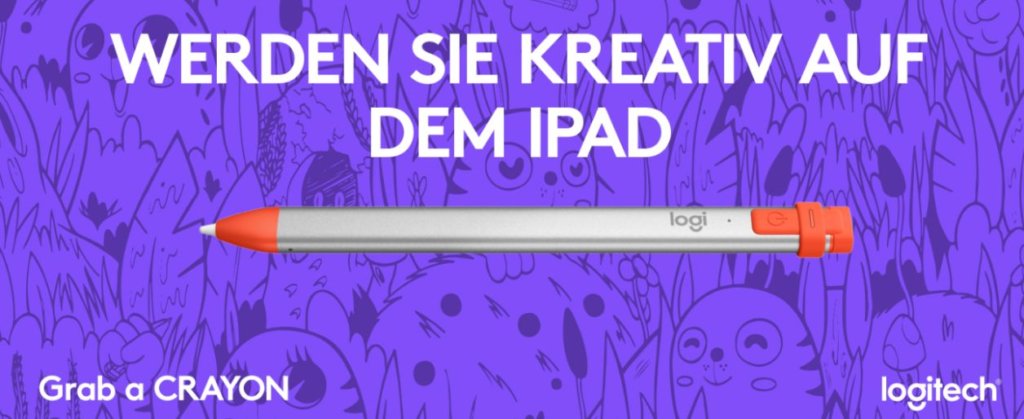 The Logitech Crayon is designed for all iPads from 2018. With him not only precise work, but especially creativity is possible. Responsive, pixel-perfect writing and drawing is guaranteed. Due to the palm recognition, working is now even more comfortable. Fingerprints are no longer an issue with the Logitech Crayon.
The battery charges with a USB cable, as do software updates. Up to 7.5 hours of performance time are given. The flat shape is not only an optical feature, but also prevents the pen from rolling to the side. All parts are replaceable, which guarantees a long life. The Apple Pencil alternative can be connected without complications.
Angebot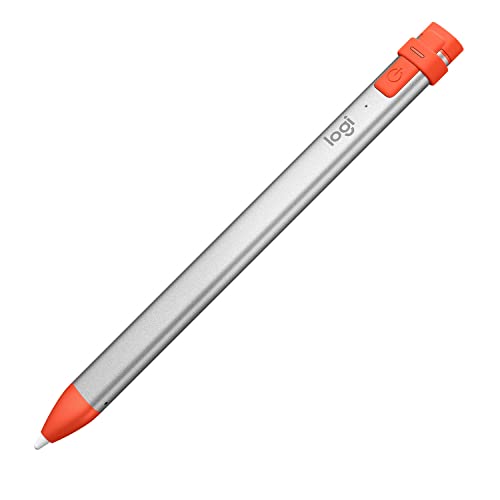 Logitech Crayon Digitaler Zeichenstift für alle ab 2018 veröffentlichten iPads mit Apple Pencil Technologie, Anti-Roll-Design und dynamischem Smart-Tip - Silber/Orange
Für iPad Pro 12,9 Zoll (3. und 4. Generation), iPad Pro 11 Zoll (2. Generation), iPad (6., 7., 8. und 9. Generation), iPad Air (3., 4. und 5. Generation) und iPad Mini (5. Generation) , iOS...
Nutzt die Apple Pencil Technologie, sodass Sie ganz natürlich schreiben und zeichnen können, ohne Angst zu haben, einen falschen Strich zu machen. Mit Scribble können Sie Ihre Handschrift sogar in...
Sie brauchen eine dickere oder dünnere Linie? Neigen Sie dazu einfach nur den Zeichenstift und die intelligente Stiftspitze passt die Strichstärke automatisch an.
Logitech Crayon verbindet sich sofort mit dem iPad. Einfach einschalten und loslegen. Keinerlei kompliziertes Geräte-Pairing oder andere Verzögerungen notwendig. Sie brauchen eine dickere oder...
Crayon liefert präzise und schnelle Eingaben mit Hunderten unverzichtbarer Apps, die den Apple Pencil unterstützen, und die Liste wird jeden Tag größer.
Benefit duration:
7.5 hours
Suitable for the following devices:
iPad from 2018
Palm Detection:
Yes
Special features:
Flattened shape
Flap fixed
Scope of delivery:
Pen, instruction manual
Which of these 7 alternatives to the Apple Pencil do you choose? 
If you work a lot with your iPad or other touchscreen device, you're probably looking for a digital pencil that prevents fingerprints and makes working even faster and more accurate.
The Apple Pencil is one of the top picks on the market today, but there are plenty more alternatives that you've just learned about. Find your favorite today!
Letzte Aktualisierung am 2023-09-25 / Affiliate Links / Bilder von der Amazon Product Advertising API