Best Remote Work Tools (Not Everybody Knows) in 2022
Zuletzt aktualisiert:
Remote work is the new normal but often, it can be a mess. Communicating and collaborating over the internet should be easy in 2022 but way too often, it's not. This is where the right remote work tools come into play. We've talked to remote workers around the globe about their favorite remote work tools and here's the complete list. Sit back and enjoy.
Project Management Tools
One of the most significant challenges of remote work is managing projects effectively. Without a central location, it can be difficult to keep track of deadlines, assigned tasks, and progress reports. This is where project management software comes in. We show you some great examples of project management tools you can use.
ClickUp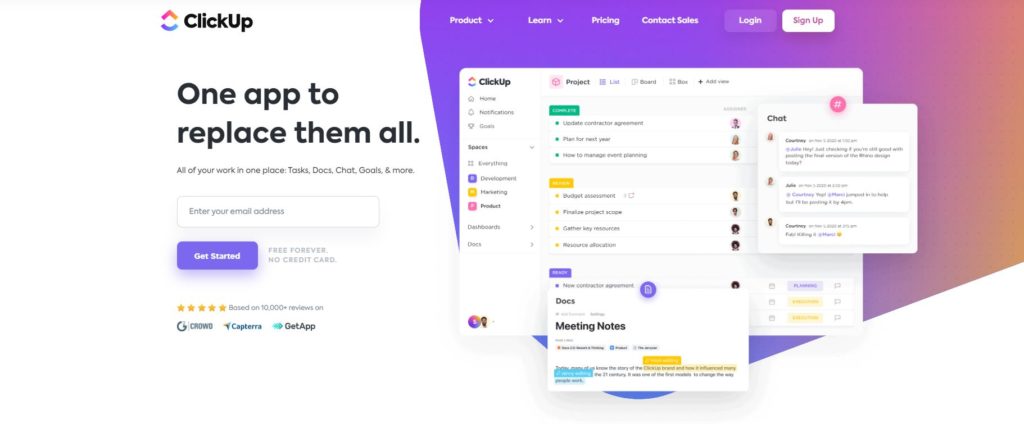 ClickUp is a cloud-based project management software that enables users to collaborate on tasks and track progress in real-time. The software provides a central repository for all project information, as well as a Kanban-style interface for visual task tracking. In addition, ClickUp offers a range of features to facilitate collaboration, such as commenting, file sharing, and @mentions. ClickUp is designed to be used by teams of all sizes, and its pricing model is based on the number of users rather than the number of projects. As such, it is an affordable option for small businesses and startups.
monday.com
monday.com is a project management software that helps teams to collaborate and communicate more effectively. It provides a central platform for managing tasks, documents, and conversations, and offers a range of features such as kanban boards, Gantt charts, and team calendars. monday.com also integrates with a range of popular productivity apps, making it easy to keep all your work in one place. With its user-friendly interface and powerful features, monday.com is an essential tool for any team looking to improve their collaboration and communication.
Ganttic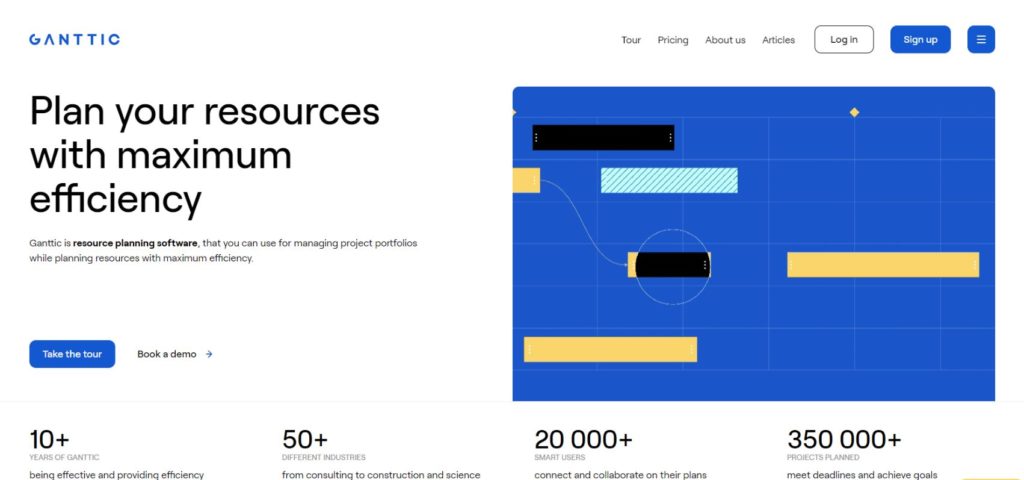 Ganttic is an online tool for project managers who want to focus on their projects' resources – the people, tools, machinery, and vehicles that make projects possible. The visual planner and Gantt charts answer the question of where your resources are and what they are working on. Helping project managers make better decisions about project timelines and budgets, as well as monitoring project capacity and resource utilization. Every plan allows for an unlimited number of users, so every team and department can check in on their upcoming projects in real-time. 
Ashore
Ashore is a digital proofing and approval tool designed for high-velocity creatives, and currently, it manages the review process for nearly 15,000 professionals worldwide (including teams at Disney, Adidas, Uber, and Coca-Cola).
Ashore's fully automated platform offers workflow staging, contextual commenting, dynamic organization, white-labeling, and integrations with over 2,000 apps. However, the main benefit of Ashore is that it allows remote teams to collaborate better. Creatives and clients can work together on the same document, you can assign roles, and comments are tied to a specific location on the page, placing the feedback into context.
Productivity Tools
Productivity tools can help to improve the quality of work by providing a structure and framework for team members to follow. By using productivity tools, remote teams can overcome the challenges of working in different locations and ensure that work is completed to a high standard. The following productivity tools will help you stay productive and deliver your best work.
Fellow.app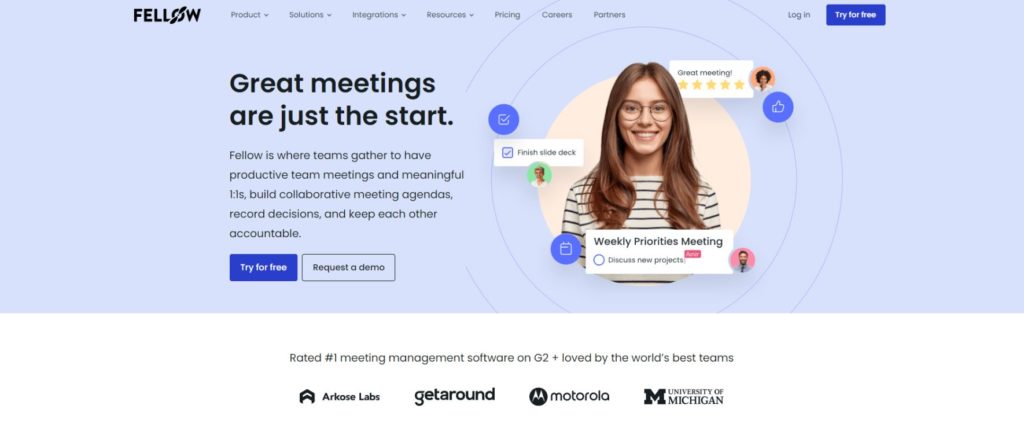 Fellow.app is a meeting productivity tool. The software integrates into your favourite tools, like Zoom, Google Calendar and Slack, to help create collaborate meeting agenda for your meetings. You can use Fellow for all types of meetings, whether it be one-on-one meetings, team meetings, or even a remote team meeting context. In fact, they have a library of meeting templates that provide a meeting agenda example for almost every type of meeting.Other features include OKR tracking and a feedback feature. Remote teams can track their OKRs in Fellow and view everyone's progress throughout the quarter. Managers and employees can also request and give instant feedback from their teams and direct reports after meetings through fellow.For remote teams, Fellow is especially useful to build a culture of feedback and a culture of accountability through the action item tracking. Keeping a meeting agenda through a software is essential for any team's successful functionality.
Mailbutler

Mailbutler is an email extension that can help remote teams become more productive. Mailbutler provides a collection of features for your inbox, such as email tracking, send later, notes & tasks, and follow-up reminders. These features can help remote teams stay organized and on top of their email correspondence. 
Scribe
For remote teams, there's no tapping a coworker on the shoulder and asking for help. Scribe is a tool that lets employees instantly document a process and share with anyone, inside or outside the organization.
It is a Chrome extension or desktop that captures you clicks and keyboard strokes and turns them into step-by-step instructions with screenshots. Once created, you can add to the guide or update at any time.
Scribes can be used to build out a knowledge base and establish best practices for processes a team does regularly. The Chrome extension is free with unlimited use.
Mailbird
Working remotely means you can work from anywhere in the world but that doesn't mean you'll always have internet access. Mailbird is a desktop email client for Windows, (a version for Mac is in development) that gives users offline access to their inboxes. That way you can easily read and craft emails and schedule them to send when you're back online. The app allows you to add an unlimited number of email addresses and has a handy Unified Inbox that gives you a consolidated view of all your emails. Mailbird integrates with dozens of apps, so remote teams can easily collaborate over Google Workspace or Slack. 
strongDM
strongDM is a People-First Access platform that gives technical staff a direct route to the critical infrastructure they need to be their most productive, no matter where they're working from. With cloud technologies and remote work here to stay, strongDM enables organizations to maximize workforce productivity by giving end users fast, secure, auditable access to the resources they need (think databases, servers, clusters, etc.) while ensuring total security and compliance. strongDM helps organizations on their Zero Trust journey by enforcing least-privilege access by default and satisfies compliance frameworks such as SOC 2, HIPAA, and PCI with comprehensive, centralized audit logs.
Internxt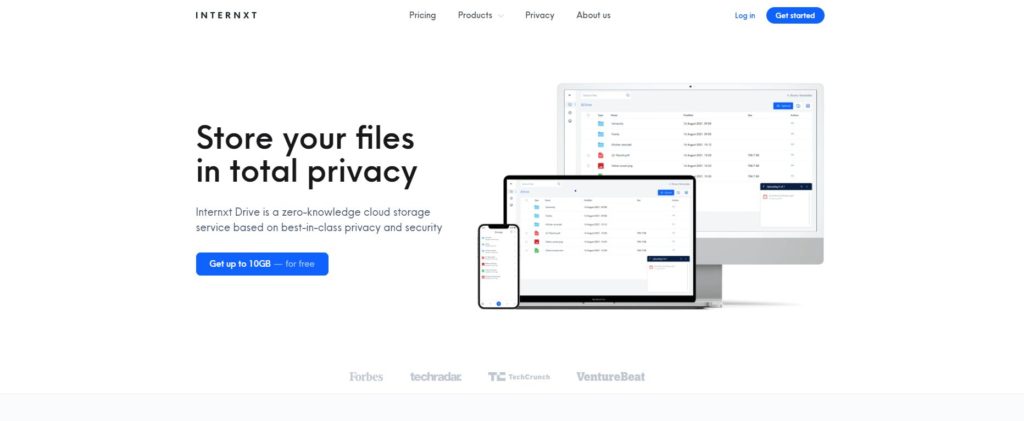 Internxt is a secure cloud storage solution that is private by default. With prices starting at $0/month, it's affordable for businesses of all sizes and offers top-of-the-line security features. Plus, with apps available for all devices, it's easy to stay productive on the go.
Internxt Drive is a good option for remote teams because it offers zero-knowledge security, which means that your files are fragmented and encrypted before leaving your device. This prevents anyone, including Internxt, from accessing or selling your data.
Finance
Finance software is an essential tool for any business, but it is especially important for remote teams. With finance software, businesses can track their income and expenses, manage their cash flow, and make informed financial decisions. Without finance software, remote teams would have a hard time staying organized and keeping track of their finances. The following tools will make sure that you have full control over your finances as a remote team.
Envoice.eu
Envoice is a SaaS product that helps businesses streamline their invoicing system. It is extremely helpful to remote teams as the AI software extracts raw data from invoices such as supplier information, due date, and product description. It then automatically uploads it to your accounting software. This feature reduces the manual entering of data which often requires a person in the office. The system is extremely accurate and recognizes 99.9% of the raw data on an invoice. This gives a human element to the operation which puts clients at ease.
There are also other features of the product like the ability to process everything digitally. An invoice Inbox captures all the invoices sent to the inbox, extracts the needed data, uploads it to your accounting software and snaps the data simultaneously to your accounting sheet, which keeps your financials completely up to date.
Our software cuts back on human error, helps workspaces go paperless and is a huge advantage for remote teams as it frees up a lot of time that would otherwise be spent manually capturing data.
Calqulate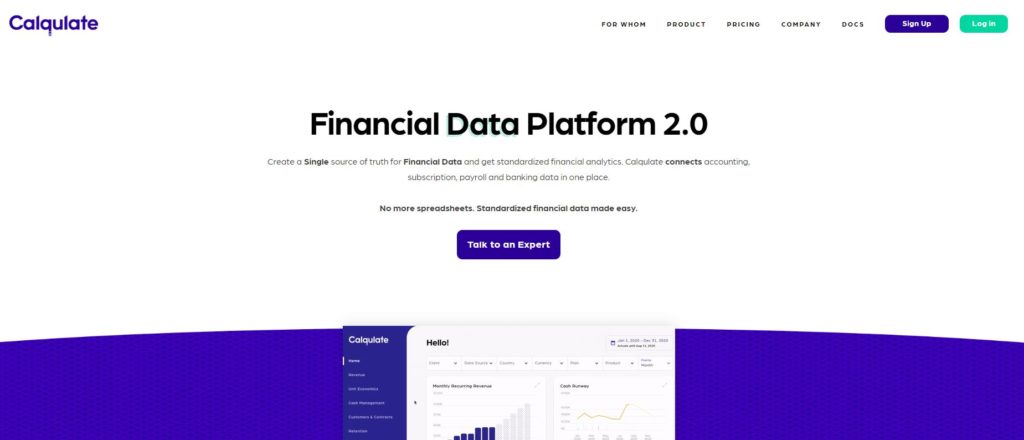 Calqulate is a business software that helps with financial data. It consolidates data from a bunch of different sources, making it easier to access and understand. This is especially helpful for remote teams who might have trouble coordinating data from different departments or software. The software also offers automated cashflow forecasting, which can be really helpful in predicting a company's future. Remote financial teams can benefit from the increased transparency that comes with using Calqulate.
Fyle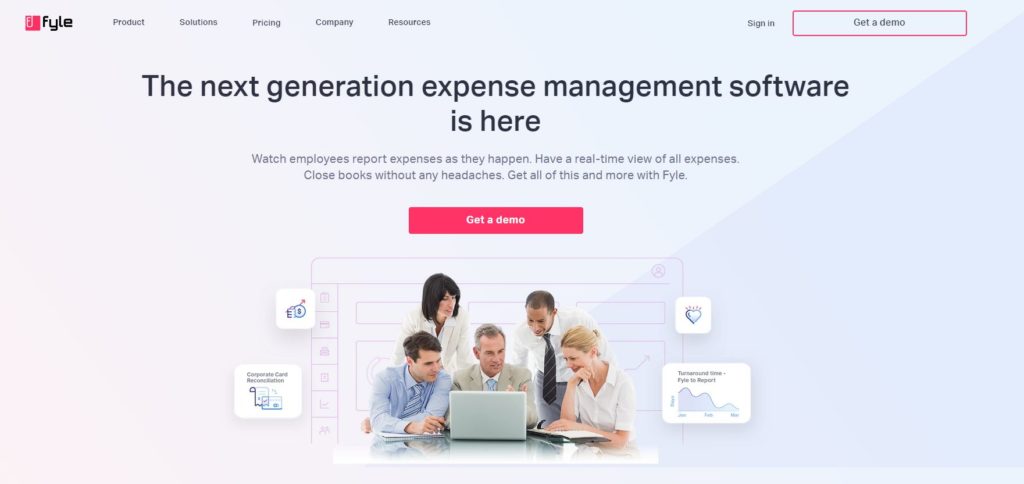 If you're working remotely, you need Fyle. It's the perfect solution for tracking and managing your team's expenses. With Fyle, you can rest assured that your privacy and security are always taken into account. Plus, Fyle makes it easy to stay on top of employee expenses with alerts when spending cross a certain threshold. Fyle integrates with popular accounting software like Quickbooks, Xero, and Sage Intacct.
Employee Management and Engagement Tools
Employee management and engagement tools help to connect remote employees with each other and with the company. The tools allow employees to share information, files, and ideas quickly and easily. It also helps managers keep track of employee performance and spot potential problems. In addition, employee management and engagement software can help to create a sense of community among remote employees. By using the software, employees can stay in touch with each other and build relationships.
Qooper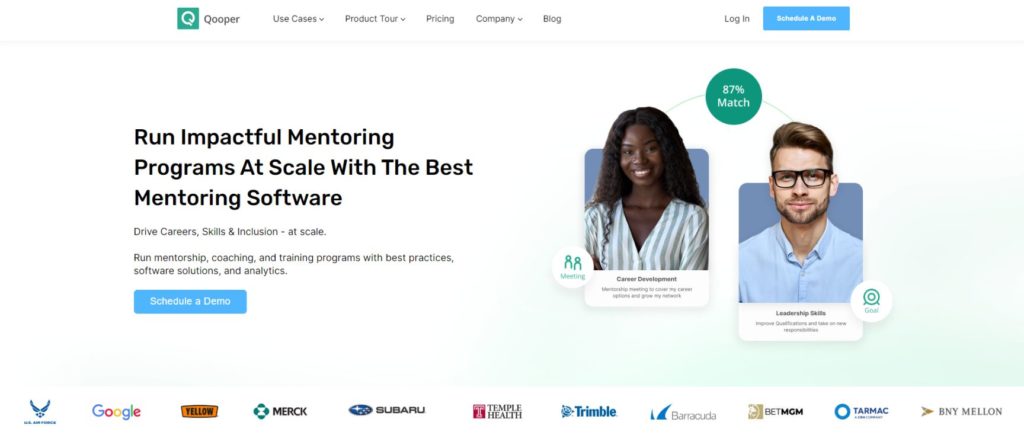 Qooper mentoring software helps companies with remote teams run onboarding, mentoring and training programs at scale. Running virtual mentoring programs with Qooper helps companies match mentors and mentees easily thanks to its smart matching algorithm. Using Qooper's mentoring software, companies can auto-deliver their mentoring and training materials, create virtual mentoring opportunities for their employees, let employees make groups amongst cohorts, and track participation.
Together Platform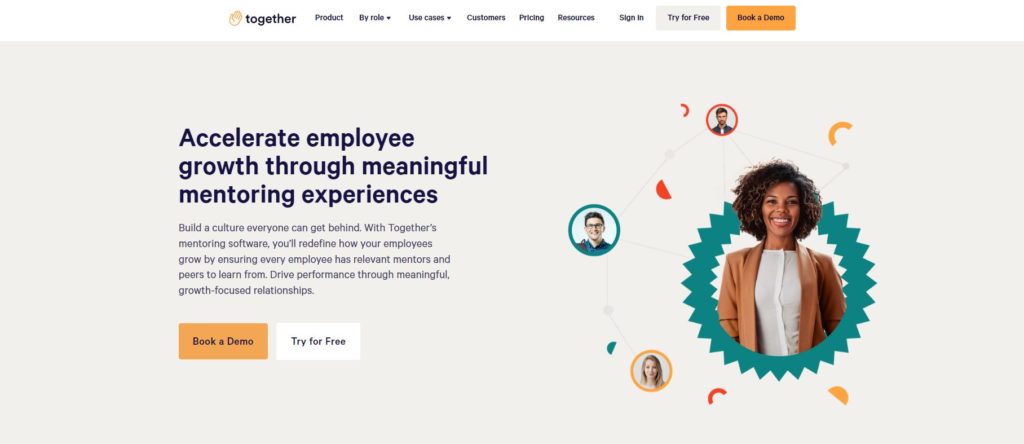 Together Platform is a great fit for remote teams because it helps employees connect with mentors who can help them grow and develop professionally. The platform makes it easy for employees to find the right mentor for them, and the reporting features make it easy for organizations to track the success of mentoring relationships.
Banter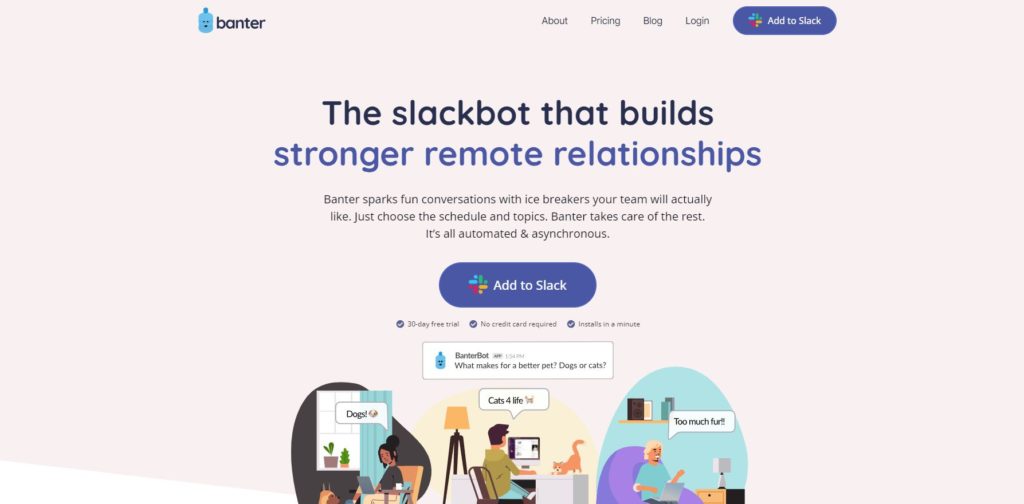 Banter is a Slack bot that builds stronger remote relationships. Banter sparks fun conversations with ice breakers your team will actually like. Just choose the schedule and topics. Banter takes care of the rest. It's all automated & asynchronous.
Nailted

Nailted is a complete employee engagement suite designed specifically for remote teams to help you create the best possible experience for your employees.
Improving engagement is no easy task, especially when your team works remotely. Nailted allows you to work on all the processes you need to increase employee satisfaction and thus reduce your turnover rate. Understand what's going on in your teams with built-in, real-time people analytics based on pulse surveys that integrate an anonymous feedback channel, allowing you to collect honest feedback.
Once you have an idea of your pain points, Nailted has specific modules to help you with each of them: get everyone recognized through the claps feature, make sure each manager conducts their 1:1s effectively, and develop people's careers with 360° campaigns.
Zavvy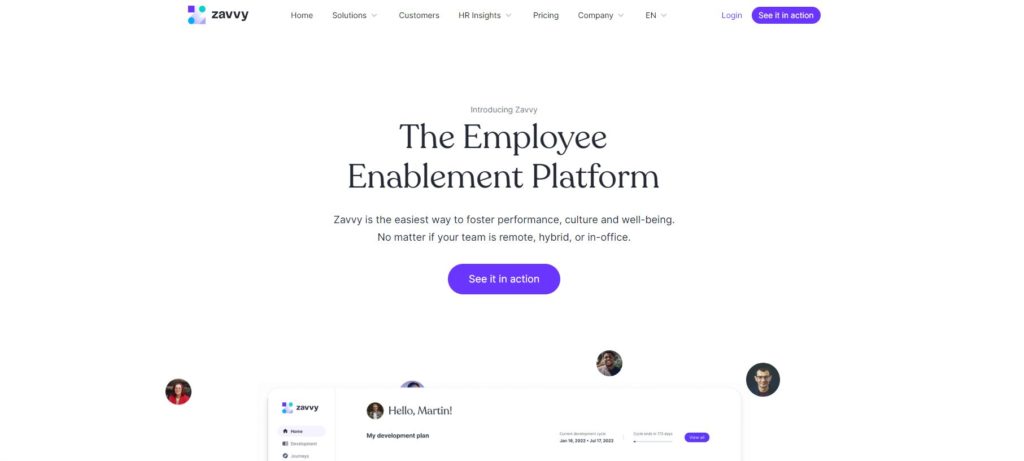 Remote workers need remote onboarding. Although the journey is online, don't let the distance take the relationship-building moment between you and your new hires. You can, and should, add a "human" touch and mix it with automated workflow. Use automated onboarding platforms, such as Zavvy, to let the new talents onboard at their own pace and set up social meetings between the onboarding steps. This could include team introduction, team lunch, and feedback sessions. It's also recommended to have an onboarding-buddy program to inform your new talent of everything that isn't written on the company's wiki. In this way, they can get up to speed in no time, both on the company workflow and the team's dynamic.
Collaboration Tools
One of the challenges of remote work is maintaining effective communication and collaboration among team members. This is where collaboration software comes in helps to bridge the physical distance between team members and facilitates more effective communication. In addition, collaboration software can help to improve productivity by providing a central location for storing files and tracking tasks. Check out the following collaboration tools. I am sure you'll find something new.
Pics.io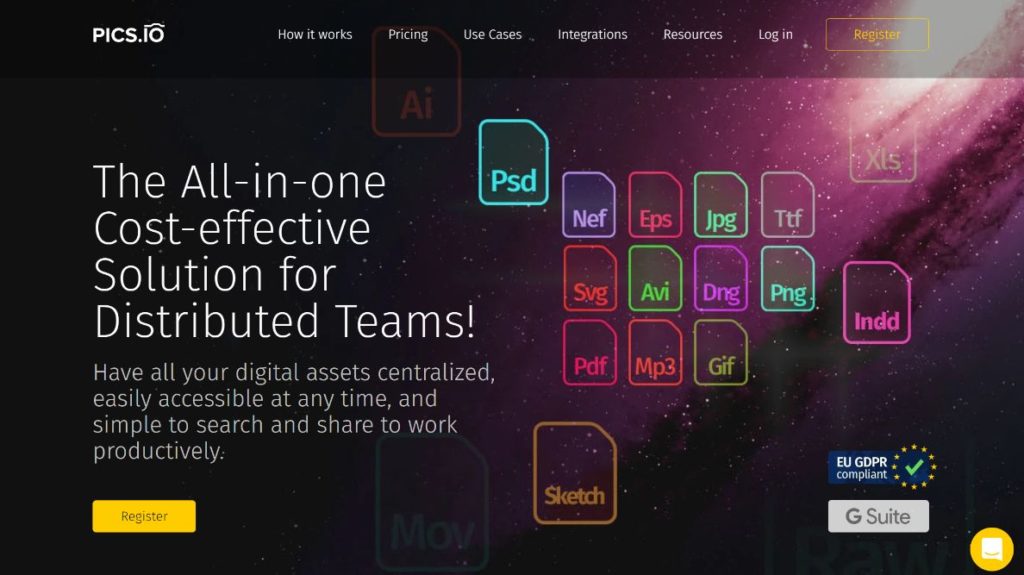 For the remote teams that work with media assets, the Pics.io digital content management tool can be a great addition to your toolkit. Its intelligent sorting and organization features turn your library into a content repository by keeping all revisions, feedback, and information about assets under one thumbnail. So, Pics.io makes it easy for your team to collaborate on asset creation from anywhere in the world as long as they have access to the Internet.
Zenflowchart.com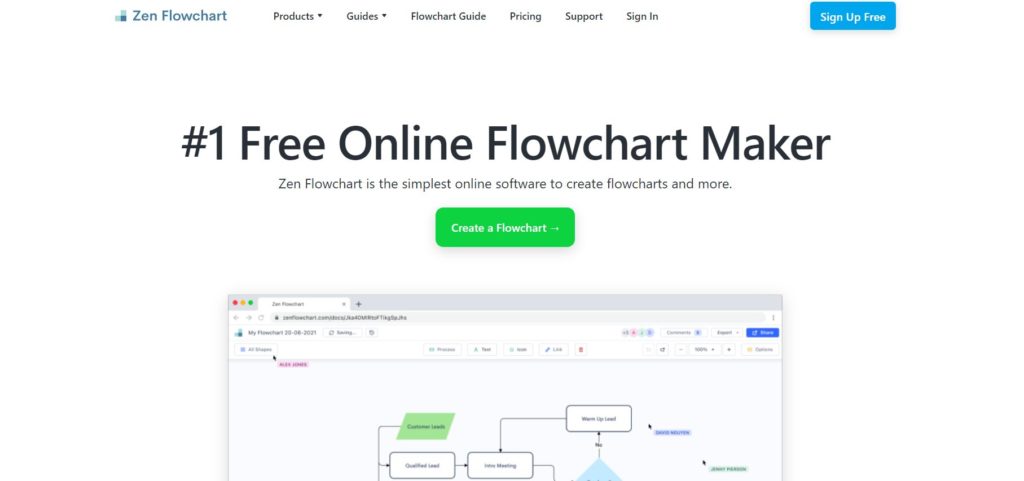 Managing a remote team can be challenging on many fronts. But not if you have a tool like Zenflowchart.com to call upon. Why is that useful for particular remote working?
Effective communication: Rather than explaining complex concepts to faraway workers over the telephone, a zen flowchart allows you to draw such concepts on a digital workspace, enabling workers to visualize everything in one glance.
Swift collaboration: If you need members of your remote working together on a task, the zen flowchart can help everyone picture who's working on what, who's completed what, or who's slacking on duty.
Other uses of the tool for the remote team include:
Team brainstorming
Inter-organizational communication
Onboarding new employee
Project and process breakdown 
WelcomeWare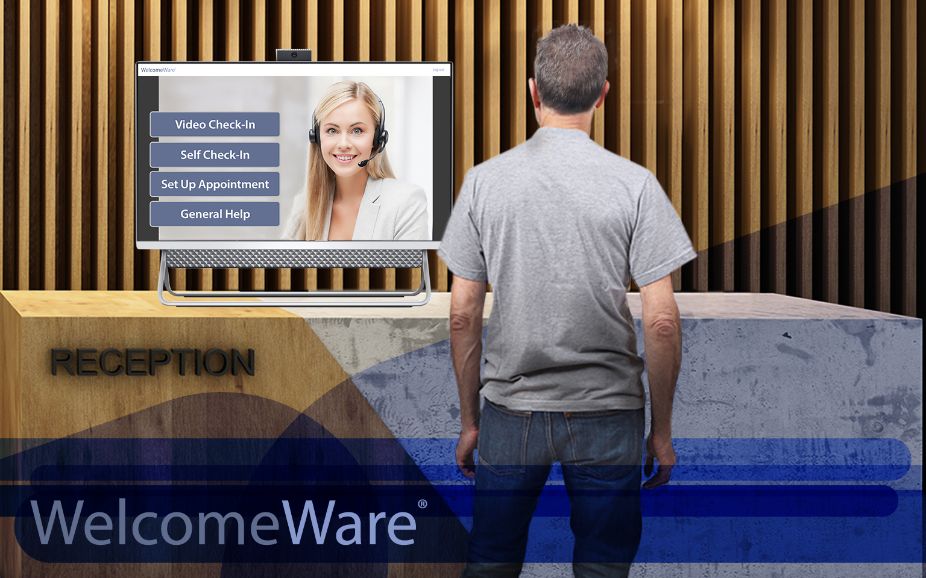 WelcomeWare is a live streaming receptionist service that provides your visitors with all the benefits of an in-person receptionist, without the hiring headaches. It allows receptionists to work from home (or a centralized location) and to remotely greet visitors face-to-face so that they can complete all of the responsibilities that they would normally do from the office. Not only does it provide receptionists more flexibility and freedom, but they can now work across multiple locations and cover for other receptionists.
Collato

Collato is an excellent collaboration tool for creative remote teams. As a remote team ourselves, we know the importance of having a good tool that can help with communication and collaboration. With Collato, team members can easily upload files of any size, comment on documents and video, and assign tasks with subtasks. This makes it easy for remote teams to stay on track and get work done efficiently.
Chanty
Chanty is a simple, visual, and powerful team chat that can help remote teams achieve a new level of productivity. With features like task management, Kanban board view, and the ability to connect to other apps, Chanty can help you manage your workflow and get the most out of your team communication. And with 24/7 support available,  you can always get the help you need.
LEAD

LEAD is the perfect tool for you, if you're looking for a way to connect with colleagues and build trust in your remote workplace, With its easy-to-use interface, you can easily connect with others in your company and develop relationships that will help you work more effectively together. And because it's integrated with Slack and Microsoft Teams,  you can easily stay connected with your colleagues no matter where you are.
Deskera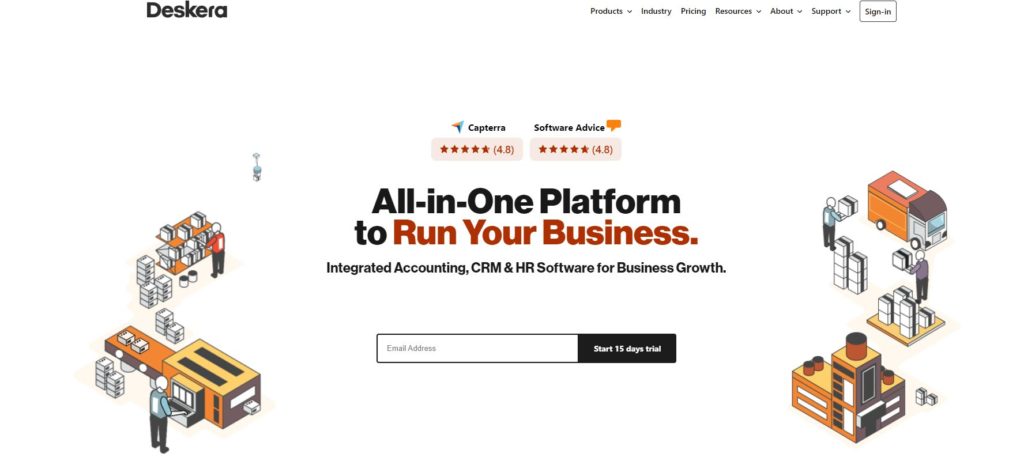 Deskera is a remote work business software that helps business users manage their work more effectively. It provides an integrated interface where users can manage their business, office documents and tasks, contacts and appointments, and calendar all in one place. This allows them to be more productive and efficient as they can access all the relevant information they need at any time.
andcards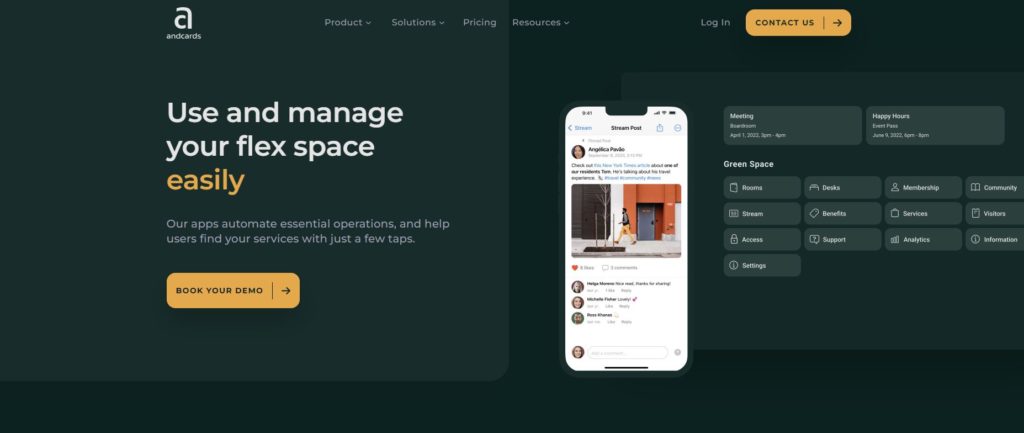 andcards is an interesting tool that's built for coworking spaces. This coworking space software helps you as a coworking space owner to manage your members, automate operations, and make smarter decisions backed by insights from data analytics. With andcards, you can connect all the apps you use directly or via Zapier to streamline the workflow. You get great support no matter which plan you're using.
Zendo
Looking for a better way to manage client care and communications? You should have a look at Zendo then. This powerful app offers an easy-to-use interface that makes it simple to keep track of all interactions with clients, as well as store and access files exchanged between both parties. Plus, because it integrates with email and payment systems, you can keep everything organized in one central place. 
UsefulPDF
UsefulPDF is an electronic signature and document generation application that was built for remote teams and teams that want to increase efficiency. You're able to automate the document generation process and collaborate with clients in the cloud which allows you to cut down on human errors and save a lot of money associated with admin staff and document storage. After the document is created, you can even get it signed electronically which, as you're likely well aware, saves a lot of time for everyone involved.
Markettailor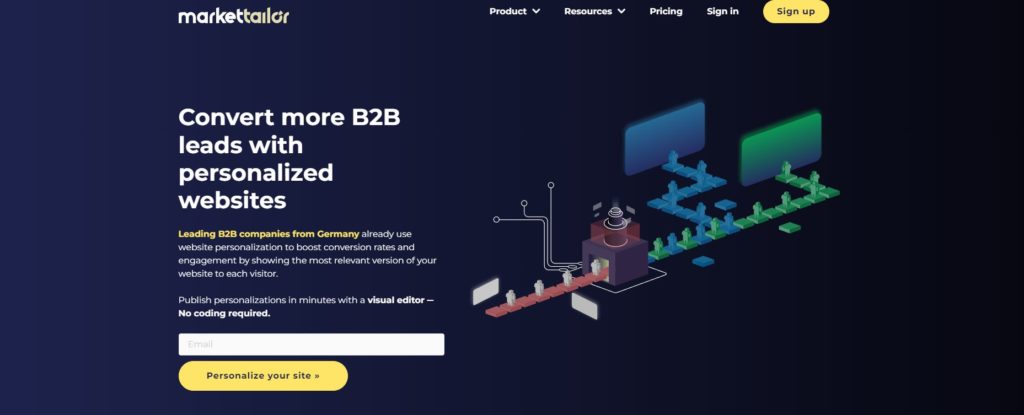 Markettailor is a website personalization tool that helps businesses segment their customers and create personalized content for them. As a remote marketing team, It's easy to use, with a visual editor, and you can measure the results of your personalizations so you know what works best. Plus, they have resources like playbooks and blog posts to help you get started.
HolaBrief
HolaBrief is a simple, creative project management platform that lets you build streamlined client workflows with collaborative briefs, interactive strategy diagrams, and transparent reports so you can do the creative work you are passionate about. 
After the 2020 crisis, agencies and freelancers realized that remote work added a layer of difficulty to the already complex process of working and collaborating with clients.
With HolaBrief, they were able to stay close to their clients and team, enable collaboration, and keep trust strong while learning what their clients really needed.
airfocus

airfocus offers a modern and modular product management platform. It provides a complete solution for product teams to manage and communicate their strategy, prioritize their work, build roadmaps, and connect feedback to solve the right problems. Designed with flexibility in mind, airfocus allows you to quickly customize the platform to fit your needs without disrupting the way your team works.
Thousands of companies worldwide, including Shopify, IBM, The Washington Post, and more, now use airfocus to make more informed product decisions and build lean roadmaps to easily align teams with company goals.
CRM
Recruit CRM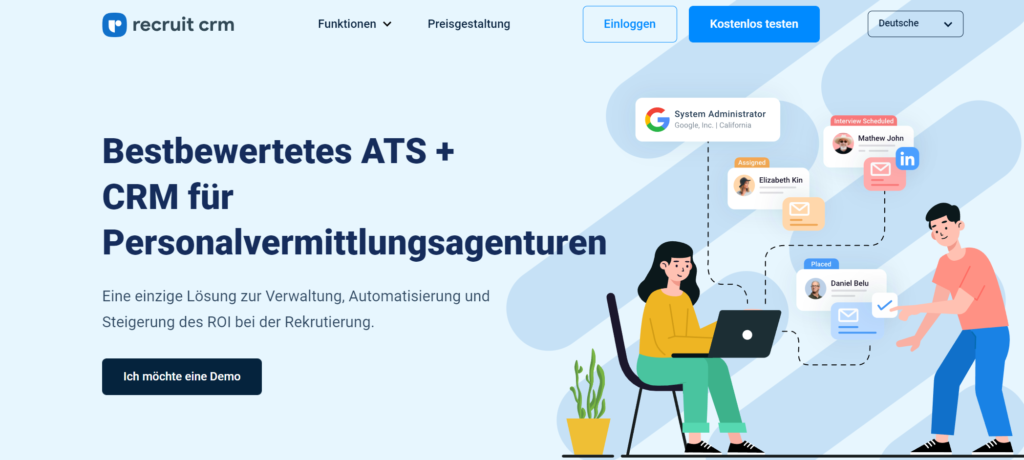 Recruit CRM is an all-in-one Applicant Tracking System and CRM software for recruitment and headhunting firms. They are on a mission to help recruitment firms grow faster with cutting-edge technology. Recruit CRM helps recruiters do everything from sourcing candidates on LinkedIn, sending emails, setting up interviews, reminders, collecting updated CVs, and feedback from clients. For the vast majority of users, it is the main tool they use to get work done every day.
Time Tracking
When working remotely, it can be difficult to know how your team is spending their time. This is where time tracking software comes in. By recording how long employees spend on each task, you can get a clear understanding of where their time is being spent. This information can then be used to help optimize workflows and improve efficiency.  Learn more about the tools that allow you to track your time.
DeskTime

DeskTime is an automated time and productivity tracking tool that helps individuals, teams, and companies track their work hours and measures productivity and efficiency levels. Besides tracking work hours, it offers helpful features for team and project management, such as project tracking, invoicing, shift scheduling, absence calendar, and more, making remote team management more effortless.
Remote and hybrid work settings have emphasized the need for effective tools that help with work accountability and draw the line between work and life. DeskTime, thus, is such a tool.
Customer Service
Customer service software provides a centralized platform for storing customer information and tracking interactions. It also includes features such as chatbots and live chat that can help resolve customer issues quickly. As a result, customer service software can help remote teams to be more efficient and responsive. In turn, this can lead to improved customer satisfaction and retention rates. Have a look at the following tools and learn how to optimize your customer service.
Hiver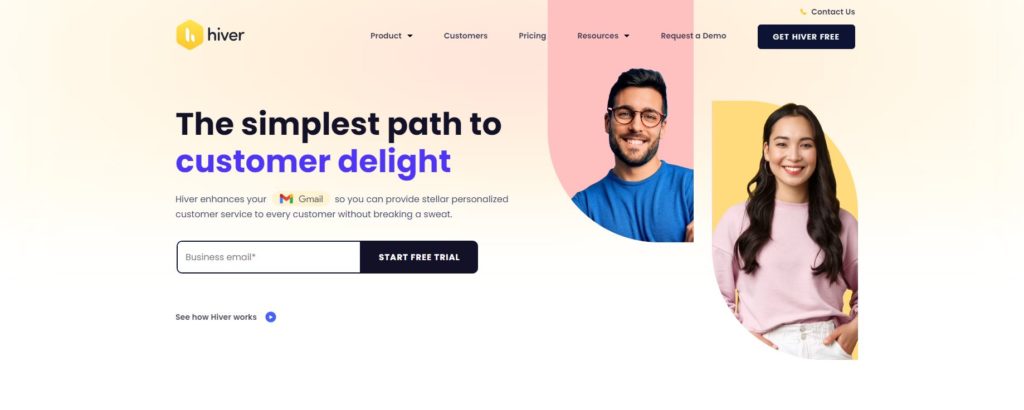 If you're looking for a great help desk tool that seamlessly works within Gmail, Hiver is definitely worth checking out. With its easy-to-use interface and helpful features, you'll be able to manage customer support at scale in no time. You can assign customer queries as tasks, delegate them to your frontline agents and track their status till the point of resolution, all from within Gmail. The tool allows you to see all your important data in a single dashboard – ensuring complete visibility across the team. So, if you're looking to deliver outstanding customer service without leaving your Gmail interface, Hiver should be an ideal option.
Klutch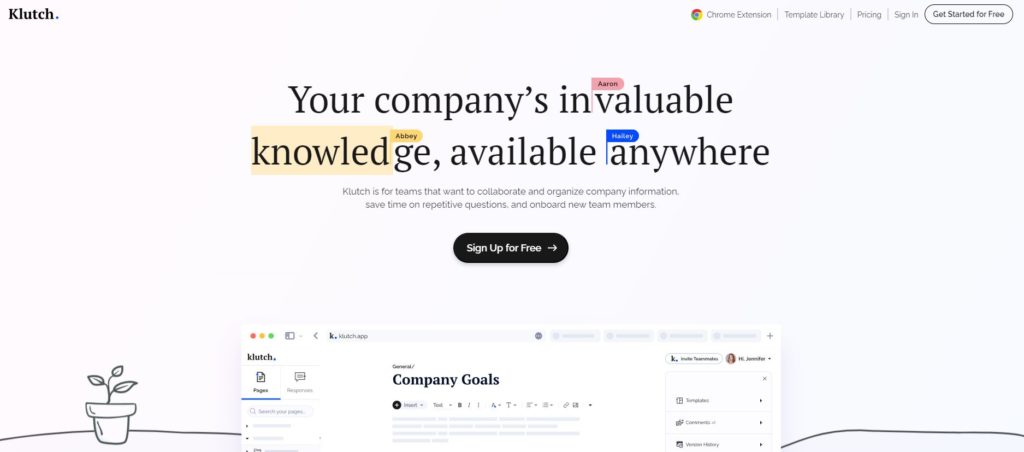 Klutch is a knowledge base software and offers a great way to keep your team organized and in communication with each other. You can create documents, folders, and pages to keep track of everything and share it with the rest of your team. There's also a template library so you don't have to start from scratch, and real-time collaboration so everyone is always on the same page. Plus, you can use Klutch on your desktop, laptop, or mobile devices.
FAQ: Everything (Else) About Remote Work Software
Remote Work Software
What tools are needed for remote work?

Zuletzt aktualisiert:

Many companies are increasingly allowing their employees to work remotely, and there are a number of digital tools that can make this possible. One of the most important is video conferencing software, which allows team members to hold virtual meetings and stay in touch even when they are not in the same location. Another useful tool is project management software, which helps to keep track of tasks and deadlines, and can be used to assign and track progress on specific projects. Finally, document sharing software makes it possible to share files and collaborate on documents even when team members are not in the same place. By making use of these tools, companies can enable their employees to work effectively from anywhere in the world.

How do I make my remote work successful?

Zuletzt aktualisiert:

First, you need to establish routines and work hours that you stick to as closely as possible. This will help to get your mind into "work mode" and minimize distractions. You should also create a dedicated work space in your home, if possible, to help you stay focused. In addition, it is important to stay in close communication with your team members and supervisor. Make sure to schedule regular check-ins and updates so everyone is on the same page. Finally, don't forget to take breaks! Get up and move around every few hours, and make sure to step away from work at the end of the day so you can relax and recharge. By following these tips, you can set yourself up for success in the remote workplace.

How to introduce new software to your remote team?

Zuletzt aktualisiert:

There's no one-size-fits-all answer to this question, as the best way to introduce new software to remote teams will vary depending on the nature of the software and the team itself. However, there are a few general tips that can help ensure a smooth transition. First, it's important to provide clear and concise instructions on how to use the new software. If possible, it's also a good idea to create a short video tutorial or an FAQ that team members can refer to if they get stuck. Additionally, it's helpful to assign a champion for the new software who can act as a point of contact for questions and feedback. Finally, it's important to give team members time to adjust to the new software by providing a grace period before expecting them to be fully productive. By following these tips, you can help ensure that introducing new software to your remote team goes as smoothly as possible.
Conclusion
In this day and age, remote work is becoming an increasingly popular way to work. Many companies are offering the option to work remotely, and many employees are choosing to take advantage of that opportunity. However, not everyone knows about all the options for remote work software out there. In this article, we've highlighted some of the best options for you.